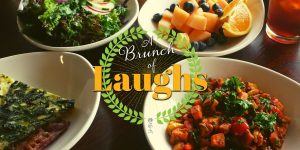 Brunch of Laughs Comedy Show is perfect for "Brunch-Friends" (friends who brunch) with a sense of humor! Standup comedy meets a delicious once-a-month-only brunch menu by Chef Ryan. With live music during pre-show. This months lineup is deeeelicious:
Hosted by: Krystal Moore
Featuring:
Eugene Bashaam
Rocky Wing
Dylan Hunter
Tickets for the Brunch of Laughs Comedy Show are $10.
Brunch is available for purchase separately at the door, and is a $20 Prix-Fixe which includes…
Mushroom Quiche with housemade veggie sausage, melted leeks, and cornmeal crust
Pumpkin & Butternut Squash hash with apple and maple syrup
Kale salad with pomegranate and pecan
Candied Millionaire's Bacon, thick-cut and locally sourced
Apple cinnamon muffins
Bubbles! House seltzer-mosa to get you chuckling.