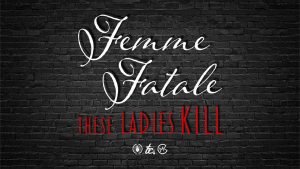 Femme Fatale is Boise's only all fem comedy show. The valley's funniest females peg the patriarchy one punchline at a time!
Femme Fatale – These Ladies Kill
Hosted by:
Krystal Moore
Featuring:
Kat Lizarraga
Leslie Bing
Reese Samuels
Tilly
Featuring funny females from all over. This is a monthly show so stay tuned – and join us for a laugh and a night out; you need it!