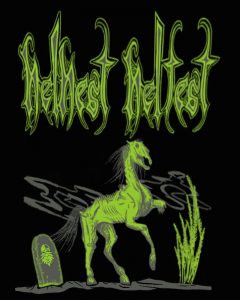 Halloween is ON at Mad Swede! In celebration of our 4th Anniversary and our spookiest beer, Mad Swede is hosting the Helhest Helfest haunted house!
This October in Boise, the Norse goddess Hel, ruler of the underworld, stalks the land atop her ghostly, three-legged steed Helhest, looking for souls to drag down to Helheim. Legend has it that an offering of oats to the hungry Helhest will spare your soul, and Hel will pass you by this Halloween season.
Thankfully, our Helhest Oat Ale is a traditional Dutch-style beer called a "kuyt beer" that is jam-packed with oats to keep you safe from Hel.
Admission to Helhest Helfest gets you:
– A journey through Helheim, our socially-distanced, COVID-safe, yet totally terrifying Haunted House
– A pint of Helhest Oat Ale (or a delectable oatmeal cookie, for the kids)
– A roll of the ghost dice to win a range of prizes
Admission is $13 for Adults, $7 for Kids.
Tickets can be purchased online through the Mad Swede Brewing website starting October 1st.
Reservations are HIGHLY recommended.
Here are the rest of the dirty details:
*Parties are limited to 10 people and should ONLY include people in your Quarantine Pod.
*Parties will be led separately in 15-minute intervals through the no-touch, outdoor Haunted House to maintain social-distancing.
*Masks must be worn at all times when you are not sitting at your table and sipping beer. The spookier the mask, the better.
Reservations are available in two-hour increments and save your table at Mad Swede in addition to getting you all the goodies listed above.
We are offering all-ages seatings at 5:00 p.m. and 7:00 p.m. Wednesday through Saturday, with an additional 21+ seating at 9:00 p.m. on Fridays and Saturdays.
Questions? PM us!