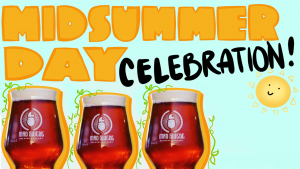 Sweden's traditional Midsummer Day celebrates the summer solstice during a weekend between June 20 and 26. It's a day to enjoy the extra sunshine and summer flowers, feast, and dance into the night. This year, the summer solstice falls ON Midsummer Day. How cool is that?!
For the fourth year in a row, we're celebrating the longest day of the year, because this is one party that just has to be repeated. We kick it off with a pop-up craft market celebrating local artists, just in time to snag your last-minute Father's Day gifts. (3pm-8pm)
Once you've stocked up on local art, get down and cut a rug with live music from the Uptown Chiefs (8pm-11pm)
Curb Crust

pizza will be here serving up delicious pizza and fresh salads, so we've got your feast covered.
We'll have a special infusion of our Dilly Dallying Dortmunder lager on tap in our tasting room to keep you refreshed on this sunny day . Our mad great beer will be flowing all day!
our very own Carrera Swarm!