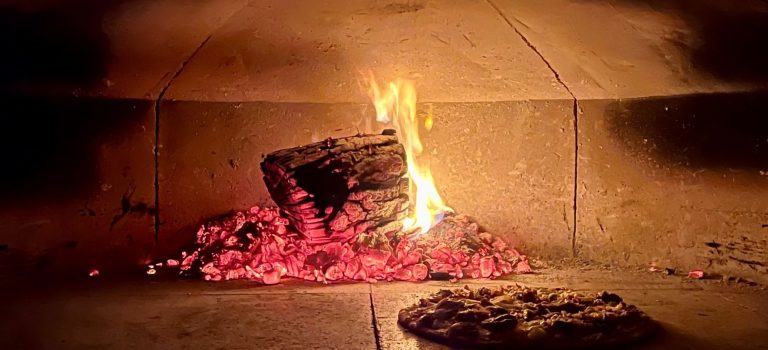 Resident food truck Fire Giant's Pizza Forge is open 7 days a week  at Mad Swede Brewing on Cole Road.
A lot of people might not know that Mad Swede's first ever employee, Eric Larson, was a professional cook for 10 years before helping found the family business. His expertise in the kitchen and passion for pizza can be tasted in every wood-fired pizza he forges.
Eric incorporates Mad Swede beer into all aspects of the pizza. For example, the handmade dough includes actual barley left over from our brew process. The from-scratch Marinara and BBQ sauces contain Helm of Awe porter and Longship IPA, respectively. A couple of Fire Giant's specialty pizzas include the "Slice of Paradise" with Naked Sunbather brown ale pulled pork, pineapple, and BBQ sauce; and "The Funk" with chorizo, gorgonzola, mushrooms, and roasted garlic. The 11″ pizzas are cooked in a wood-fired oven built by the Mad Swede himself (Jerry Larson). They make a hearty meal for one or a hearty snack for two. 
Opening Hours
Monday

3pm - 9pm

Tuesday

3pm - 9pm

Wednesday

3pm - 9pm

Thursday

3pm - 9pm

Friday

3pm - 10 pm

Saturday

11 am - 10 pm

Sunday

11am - 9pm