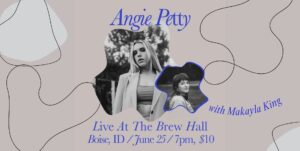 Rising star Angie Petty takes the Brew Hall stage with her smooth vocals and sparkly guitar. Joined by Boise's own gem Makayla King.
Mad Swede is thrilled to present two wonderful musicians for a relaxing evening of beautiful music, food, beer, and wine.
All the way from Salt Lake City, Angie Petty effortlessly weaves together pop and jazz influences, channeling the soulful essence of artists like Amy Winehouse, India Arie, and Moonchild. With her mesmerizing vocals and beloved Fender Telecaster named Ocean, Angie captivates audiences with her heartfelt lyrics and leaves them craving more.
Local enchantress Makayla King (as seen at Treefort Fest and featured live on KTVB ) weaves together spellbinding melodies, evocative lyrics, and a smooth voice that will gently caress your senses. Don't miss the opportunity to experience both of these artists' bewitching performances that will leave an indelible mark on your soul.
100% of proceeds go directly to the artists.