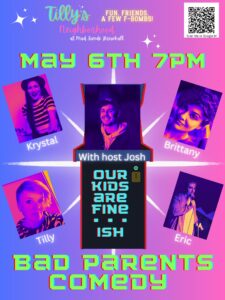 Tilly's Neighborhood is back Mad Swede Downtown Brew Hall with a whole new Bad Parents Comedy show. This lineup of Bad Parents is just in time for a Mother's Day surprise!

Don't worry, our kids are fine-ish!

You folks want these tickets, trust us we're parents too!

Featuring the talents of moms Brittany Hargis, Krystal Moore, and Tilly the Comic, and dad Eric Cole, we are excited to announce our "kid" and host Josh Price! Plus we have a couple special guests in store- you DO NOT want to miss this event.

Discount code is BADPARENT for 20% off… if you read this far!