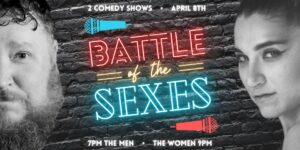 Battle of the Sexes Comedy Night is 2 Comedy Shows in 1 Night. 7pm the Men * 9pm the Women Attend ONE or BOTH.
Bree Jones and Krystal Moore partner once again for BATTLE OF THE SEXES comedy night.
7pm, it's about the bros fo sho, in HE-larious.
9pm, these ladies kill, in Femme Fatal.
Enjoy one show for $20 or grab those double feature tickets for only $35.
(8:30 to 9:00 intermission for your double feature baddies. Take a break as we load in our new audience for the second show.)
—
HE-larious (7:00pm)
Doors at 6:30 pm
Join some of Boise's funniest men for lots of laughs. Enjoy the comedy and how different each man is from the next. These men are single, dating, gay, straight, tall, short, etc., etc.
The Cast: Jack Wheeler, Amos Rothstein, Che, Eric Cole, & Headliner Nate Ford
This show is proudly produced by a woman, Bree Jones.
—
FEMME FATAL (9:00pm)
Doors at 8:30pm
Femme Fatale is an openly feminist comedy show on the second Saturday of every month at Mad Swede Downtown brought to you by Moore Productions. Don't miss out, cause These Ladies Kill!
The Cast: Beth Norton, Norelle Bond, Natasha Dash, & the goddess herself Krystal Moore.