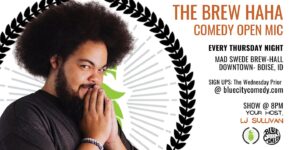 Blue City Comedy presents…
THE BREW-HAHA COMEDY OPEN MIC
Every Thursday Night starting at 8PM
Except, Thursday March 23rd, show starts at 10pm
@madswede_downtown .
ONLINE Sign ups: Every Wednesday ; Open 10AM-5PM ; SUBMIT HERE
With your host, LJ Sullivan
-Supporting artists working their craft-
—————————————————–
MEET YOUR HOST:
LJ SULLIVAN : Born in the LA area, raised in Boise, ID – LJ Sullivan is a trained master at making you laugh. After a brief flirtation with comedy at 18, Sullivan did the adult thing and went to college to pursue a "proper" career. However by the time he turned 21 and was able to perform in comedy venues (Bars), he knew in his heart that nothing was going to fit as right as Stand Up Comedy. LJ dropped out of college to pursue comedy seriously. Since then he's become a staple of the Treasure Valley comedy scene.
He's a featured comic at multiple regional comedy festivals, including Treefort's Comedy Fort and The NorthWest Black Comedy Festival. Some say his stage persona is like a whirlwind of polysyllabic pontification and pot smoke delivered piping hot promptly to the people! You listen to him from the comfort of your home by checking out his podcast, appropriately named- That F*ckin Podcast , available on Spotify and Google podcasts.
———————
Stay in touch with his comedy journey!!!
Instagram: @thatf_ckingguylj
Twitter: @Thatf*ckingguyLJ
Spotify: ThatF*ckingPodcast
Facebook: Lj Sullivan – Comedy Crazy
———————————————————————
Wanna be in the Comedy Loop?
Follow The Blue City on:
INSTAGRAM at @BlueCityComedy
FACEBOOK at @BlueCityComedy
—————————————————–
Put a reminder in your phones!
The Thursday Mic Sign ups open EVERY WEDNESDAY from 10AM-5PM.