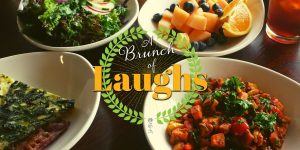 Brunch of Laughs is the perfect show for small groups of "Brunch-Friends" (friends who brunch) with a sense of humor!
Do you love brunch, comedy, and jazzy piano on a Sunday afternoon? Of course, you do.
Krystal Moore, Mad Swede Downtown Brewhall & Blue City Comedy bring Boise the only brunch-time comedy show in town! It's A Brunch of Laughs & it's tasty!
Hosted by: Krystal Moore
Featuring:
Megan McCaleb
Nate Ford
Reese Samuels
This is a monthly show, so stay tuned and come have a laugh! You need it!
Brunch starts at 1pm and the show starts at 2pm.
General Admission: $10
Admission + Brunch: $25