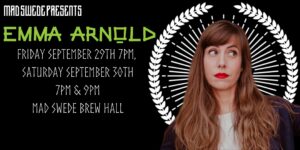 Emma Arnold is an Idaho backcountry-raised comedian, artist, and beekeeper. Her comedy special, "Yes, Please," has been viewed over a million times and she's put out four critically acclaimed standup comedy albums with Blonde Medicine Records.
Emma Arnold's comedy is electric and straight from the heart "One of the hardest working comics in the industry' – Forbes Magazine
Doors at 8:30pm; arrive early and grab your drinks and food. In addition to our usual tasty bar eats, we offer beautifully delicious charcuterie boards on the weekends.