Blue City Comedy presents comedian Erik Escobar at Mad Swede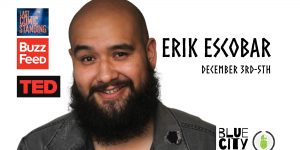 Featuring: KELLY LEE WILLIAMS
With your host, JOE GOMEZ
———————————————————
$20 PRE-SALE TICKETS* – $25 AT THE DOOR – *Group table tickets available for pre-sale.
———————————————————
ERIK ESCOBAR is a comedian who has performed all over the United States at clubs, colleges, and theatres independently; with the Almost Asian Comedy Tour; and opening for acts such as Rex Navarrete and Jerry Seinfeld. You can catch him on NBC's Last Comic Standing; Buzzfeed; VH1; the upcoming feature film VHYes alongside Tim Robbins and Thomas Lennon; and his own TEDTalk, Creating a More Fulfilling Lifestyle Through Humor.
He has also been featured on the popular podcast- The Viall Files and recently as Musical Bars on I Can See Your Voice on FOX! He holds a Masters in Fine Arts in Comedy Theory and Studies from Goddard College and resides in Los Angeles, CA.
Kelly Lee Williams
KELLY LEE WILLIAMS is a 20 year comedy veteran and founder of Renaissance Entertainment. He has performed with Eddie Griffin, Hannibal Buress, Kumail Nanjiani, Tommy Davidson, Mugga Phoenix, Pete Holmes, David Allen Grier and Carl Labove, among others. He was Black Guy #2 in the major motion picture BIG MIRACLE and was voted best comic of Anchorage, AK in 2011 & 2013.
He has played Sammy Davis Jr. on the Las Vegas Strip, produces comedy shows in Las Vegas and Los Angeles, and currently runs weekly comedy open mics and shows at A Pizza Melody in Vegas and Vince Neil's Wild Side Tavern in Pahrump, Nevada.
JOE GOMEZ
JOE GOMEZ got his start as a Seattle comic in 2019. Despite the lock down of 2020, he remained active in the comedy scene by participating in outdoor comedy shows, underground speakeasies, and online comedy shows. He also took time during the pandemic to relaunch his podcast 'Laugh Wit Me' a Jokedaddy production.
Since the ease of restrictions on social gatherings in 2021, Joe has quickly jumped back in to the comedy scene. He's had opportunities to perform all over the pacific northwest. Most recently including a string of shows running from Medford to Portland Oregon, and another run in Boise Idaho. Joe brings to the stage jokes about married life, being a dad to four kids, and his experiences as a Mexican-American growing up in Seattle.