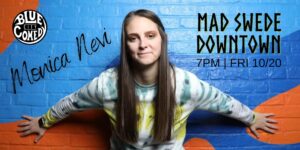 Come join us at Mad Swede Downtown for an awesome evening with comedian Monica Nevi, where laughter and good vibes are guaranteed!
Blue City Comedy presents…
MONICA NEVI @ MAD SWEDE BREWING
Meet Your Headliner…
Monica Nevi is a native of the Seattle area, having grown up about 20 minutes south in the glory that is Renton, Wa. The product of a wonderfully humorous family and diverse life experience, she went on to earn a degree from Seattle University and lived in the city for 3 more years after going to school.
After injuries ended her career as a collegiate basketball player, Monica decided to move forward with the next most accepted career for a young woman – stand-up comedy. After starting and performing for the duration of her time in college and beyond, Monica continues to perform all over the country with great comedians, in great festivals, in great competitions, television appearances and continues to love it.
Monica regularly tours nationally and internationally and can be seen performing in clubs, colleges, theaters, comic book shops and Thai restaurants all over.
Credits…
Her debut special "Big Stepdad Energy" was filmed in Philadelphia with Helium Comedy Studios and released in October 2022. It was voted top 50 specials of the year by We Own The Laughs magazine.
She appeared on FOX's nationally syndicated TV show 'Laughs' and ESPN's Sports Center, as well as Seattle based television programs 'New Day Northwest' and '[the 206]'
Monica released her documentary series '80 For 80′ on Amazon Prime Video this year where she hosts and interviews hilarious short episodes with people over the age of 80. It is available now on YouTube.
She debuted two albums in late 2020 within one month of each other. Her first standup album, Mostly Finger Guns followed by her debut comedic guided meditation Chill. Both went #1 on the comedy charts.