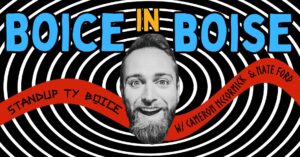 Touring comedian Ty Boice takes the stage with Oregon comic Cameron McCormick and Boise's #1 professional comedian Nathan Scott Ford.
After working for over a decade as an award winning actor and director, Ty Boice has worked at some of the region's biggest comedy clubs, including: Harvey's, Helium-PDX, The Mad House, Candy's, Ha ha Comedy Club, Laughs comedy club, Infinity Room, Chadwick's and Comedy Chateau, and now…..MAD SWEDE.
Ty has headlined in rooms throughout the Northwest and featured at Tacoma Comedy club, Spokane comedy club and we are thrilled to welcome him to the Brew Hall stage for a two-night engagement. He is the quintessential Cool Dad who is guaranteed to make you laugh.
Enjoy a night out in downtown Boise with the best live entertainment the Northwest has to offer. Hosted by Nate Ford, Featuring Cameron McCormick.