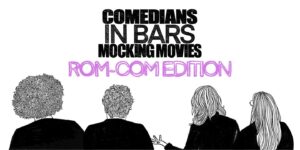 Blue City Comedy presents….
Comedians In Bars Mocking Movies
Commentary has never been funnier! Come watch a movie with four Boise comics as they roast terrible movies together.
Comics to watch as they watch will include the wonderful LJ Sullivan, hilarious Dylan Hunter, effervescent Montana Burke, lovable Tyson Gusman, and poised Kat Lizarraga!
Happening at Mad Swede Brew Hall on Mondays in March, the film starts at 7 PM. Get there early to grab your seats, brews, and snacks. FREE POPCORN!
Suggested donation of $5 goes straight to the comics.
Don't forget to follow @bluecitycomedy and @madswede_downtown on social media for all your comedy, beer, and fun time needs!