COMIC OF THE YEAR– THE BLUE CITY'S GRAND ANNUAL COMEDY COMPETITION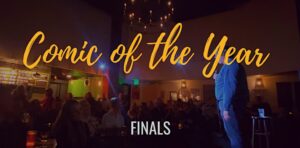 This is it! The FINAL ROUND of Comic of the Year! Come see who wins the title of Comic of the Year 2022!
Winners, Runner Ups of Comic of the Month '22 and Special Picks (30 Local comics) will compete for the chance to win money, opportunities and tools to continue honing their craft EACH ROUND they advance and a bonus prize of a $1,000 and the title of COMIC OF THE YEAR – if they take it all in the 4 WEEK COMPETITION.
HOW IT WORKS
Judges score each set and audience votes for their favorites to crown the champion!!!
The person who wins this, will win because they have the strongest, most cohesive 20-minute set. We are creating World-Wide Worthy Features here!!!
Check out the finest the Treasure Valley has to offer.
All of these competitors showed up for 2022 and now is the time for rewards!
THE SCHEDULE
———————–
Doors 6 PM – Show @ 7PM
Online: $25 I Door: $30
———————–
Host: Tyson Gusman
Your Judges: TBA
———————————————————————
Mad Swede Downtown Brew Hall is bringing you award winning beer and wintery hard seltzers. Have you tried their hop water yet!?! Swedish meatballs, hand pies and the most delicious beer dogs!
Come have dinner and a show – EVERY WEEKEND @ Mad Swede Downtown!
Savor the voyage!
———————-
Wanna be in the Comedy Loop?
Follow The Blue City on FB and IG and Eventbrite at @BlueCityComedy