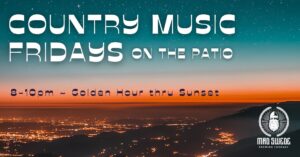 FREE LIVE MUSIC: Musicians from the Treasure Valley and beyond serenade you on the Mad Swede patio with folk/country music as the sun sets.
Summer evenings in South Boise are pure magic as the light turns gold, the air cools to the perfect temperature, and the sunset paints the sky. Soak in this idyllic time of day on the Mad Swede patio with a free country music series starting on July 7. Each Friday concert will showcase the best country and folk musicians of the Treasure Valley, with a few gems touring in from out of state. We were lucky enough to snag some real treasures for this series:
July 7 : Whiskey Rush Country (Treasure Valley)
July 14 : Eli Lev (Maryland)
July 21 : TBA
July 28 : TBA
August 4 : Travelin' Miles & Honey Bear (Treasure Valley)
August 11 : Caleb Wilbourn
Fire Giant's Pizza Forge will be serving up fresh and delicious pizza till 11pm , and Mad Swede Brewing will be pouring beer, wine, cider, and seltzer. Don't miss the magic.
No reservations, open admission. First come, first served. Arrive early for prime seating. Thank you for RSVPing here and on Eventbrite so we have an idea of how many people to prepare for.