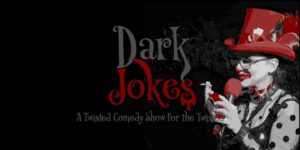 Do you have a dark sense of humor? Have you laughed at a funeral?
Dark Jokes is back! Bringing the shade to the summer, July 1st!
Dark Jokes is a twisted comedy show for the twisted. Expect dead baby jokes, cancer material, and punchlines that make you say "Oh, that's dark."
Hosted by Gothic Sweetheart Krystal Moore & featuring a fresh new lineup of absolutely twisted little clowns.
Muff Jones
Brittany Hargis
Mundek Clemenstien