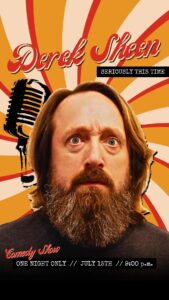 Derek Sheen is appearing live, one night only, at the Mad Swede Brew Hall! Get your tickets now!
Seattle Comic, Derek Sheen is a cuddly mess of insecurities and a gifted, one-of-a-kind storyteller. His ability to mine humor from the dark, humid corners of the human condition has made him a cult favorite of comedy nerds around the globe.
Despite a lack of television or film credits, he has amassed a pretty loyal fan base touring with comedy legends (name-drop alert!) Brian Posehn, Patton Oswalt, and Janeane Garofalo.
Derek Sheen has released four critically acclaimed albums on Minneapolis-based Stand Up! Records, with Grammy Winning producer Dan Schlissel. Listen now or better yet, listen live on July 15th at Mad Swede Downtown.
The Talent
Hosted by Tilly
Feature Act Eric Cole
Headliner Derek Sheen
The Show
General Admission Tickets $25
Doors open at 8:30pm