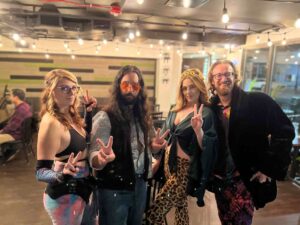 After our big Friday night comedy shows, we host KARAOKE till 2:00am!
No Karaoke Friday, March 24th. Join us for Comedyfort instead!
Comedy shows are produced and curated by Blue City Comedy and usually start at 7:00pm. Follow @bluecitycomedy for details on those shows.
After that show, from around 9pm until 2am, Mad Swede Brew Hall hosts the hottest karaoke night in Downtown Boise. Our small but mighty bar menu is available until the wee hours, so grab a beer, a hard seltzer, a bite, and some live entertainment. Follow @madswede_downtown for info on THEME NIGHTS, KARAOKE FOOD/DRINK SPECIALS, and MORE! Skål!