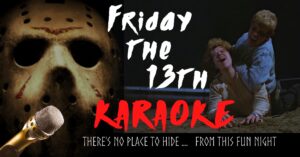 Immerse yourself in Friday the 13th myth and lore with $13 specials, a costume party, 13% discounts, and karaoke.
Our beloved bartender Megan is moving to Australia at the end of the month, and this is the going away party of her dreams! Come celebrate Megan with a very special Friday the 13th themed evening.
Starting at 3:00pm, going all night:
$13 dessert and drink special
13% off all Mad Swede Merch
Starting at AROUND 9:00pm, after the 7:00pm Comic of the Year show:
Karaoke + Costume Party
13% off your first drink when you come dressed on theme, which is Friday the 13th! Come as your favorite 80s horror villain, or embody the occult vibes of this special day.
Pop in for the specials any time, buy tickets to the comedy show here: Comic of the Year Round 2, come in costume around 9:00pm for the karaoke, costume party, and extra discounts.