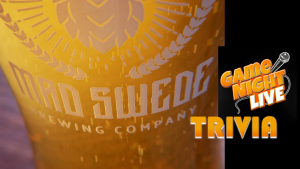 Game Night Live Trivia is at the Mad Swede Brewing Co. Tasting Room on Cole Road every Thursday from 7 to 9pm!!
Join us for the most exciting, varied, and accessible trivia game you've ever played!
Free-to-Play – Prizes for the Winners!!!
Our Reme-Halo air purification system is on the job to help keep you safe while you have a good time.
Age 21+ only
No outside alcohol allowed.