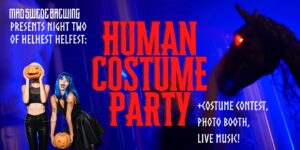 Night Two of Helhest Helfest is a wicked awesome Halloween costume party with a stacked lineup of live music.
Immerse yourself in epic Halloween decorations inspired by the Norse legend of Helhest, the three-legged steed ridden by the goddess of death. Take a picture with Helhest in our super sick photo booth, enter a costume contest with amazing Mad Swede prizes for Scariest and Funniest, and dance the night away to all-original music by…
Cabeza – Psychedelic rock
Natalie Soma – Soul music (or should we say ghost music?)
Che – Electronic DJ
Tickets are $10 at the door only, no pre-sale, and go directly to the musicians.
Costume contest winners will be announced from 9:30pm-10:00pm.
Age 21+