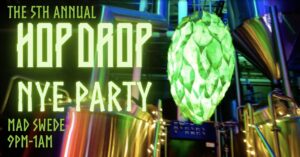 It's the 5th Annual Hop Drop New Year's Eve Party at Mad Swede Brewing!
Five reasons you should watch the Hop Drop instead of the Potato Drop:
1. The Soulmates will be playing their energizing and danceable blend of funk, rock, and soul music all night long.
2. The Hop Drop is indoors, where it is warm.
3. A potato looks like a poop. The hop looks like a beautiful flower.
4. Parking that is easy, free, and plentiful.
5. 16 Mad Swede beers on tap, complimentary toast at midnight, and tons of options for non-beer drinkers.
…..Okay I know we said Five, but here's a few more….
6. No cover charge, just a suggested donation for the wonderful band.
7. Did we mention that the Hop Drop is indoors?
8. Fire Giant's Pizza Forge will be making pizza.