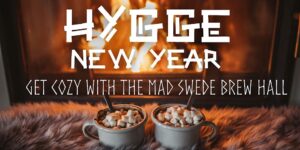 Come enjoy a relaxing Hygge New Year's Eve at the Brew Hall!
A cozy evening with warm beverages, comfort food, and you-call-it entertainment. Like staying at home with friends and family, but you don't have to clean the house!
Hygge (pronounced hyoo-guh): A concept from the Nordic countries describing a quality of cosiness
 feeling warm, comfortable, and safe) that comes from doing simple things such as lighting candles, baking, or spending time at home with your family.
Come get cozy with us on New Year's Eve, or warm-up from the cold before/during/after the big Idaho Potato Drop.
-Pouring hot mulled wine and beer all night long
-Serving Guru donuts
-Get $1 off your first drink if you wear your pajamas
-You-call-it entertainment: board games, karaoke, open mic, live video games, whatever you like.
Let's be real, it's way too cold to stand outside and watch the big potato all night. And not everyone wants to get fancy on New Year's Eve. Find yourself cozy and comfy among friends instead. Wear your favorite PJs and avail yourself off all the Brew Hall's amenities instead.