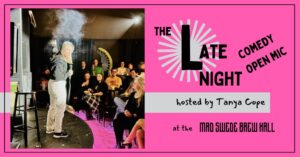 FREE every Saturday night at 11pm, or after the ticketed show at 9pm is over.
Tanya Cope is Boise's comedy mom. If your mom was a hilarious badass. Every Saturday night she hosts a zesty open mic and runs a tight room filled to the brim with laughs. From seasoned local comics to standup newbies and professional touring comedians, this mic has it all.
Signups are at 10:30pm in person. The open mic starts around 11:00pm, once the ticketed 9pm show has cleared out.
Check this collection for the latest headliners presented by the Mad Swede Brew Hall
Seating is General Admission, so ARRIVE EARLY for best seats.
This is a FREE EVENT, so help us keep it going by purchasing food and beverage!