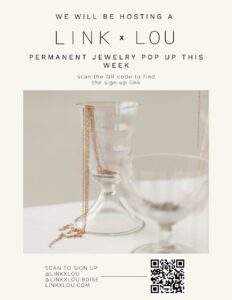 Link n' Lou Permanent Jewelry Pop-up! With food and drink specials for duos. Come get linked with your bestie, your Mom, or that special someone.
Have a beautiful piece of permanent jewelry placed as a bracelet, ring, necklace, anklet, or even ear link. Link n' Lou offers a thoughtful and fun permanent jewelry experience.
If you'd like to reserve a timeslot to get linked, click this link 
It's even more fun getting linked with your bestie. Mad Swede Brew Hall is offering deals for duos, including:
– Charcuterie Board + Two Drinks $33
-Just Drinks For Two $11
NOTE: This calendar event is for advertising purposes only. To reserve your timeslot, you MUST use the Calendly link above.