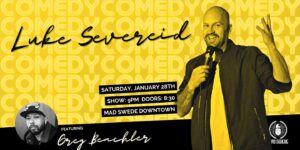 The Luke Severeid Comedy Show is in Boise for one night only! Get your tickets now!
Luke Severeid got his start performing stand-up comedy in the Pacific Northwest and has taken his rambunctious brand of comedy on the road touring the west coast, the midwest and Canada charismatically yelling jokes in and outside of comedy shows the whole time.
If Luke looks familiar it might be because he has a striking resemblance to your favorite dive bar's bouncer or it could be that you saw him in one of the several award winning films that he was in (only one of them being NSFW). Not content to be just a mediocre face on the big screen, he's also performed in several festivals including the Bumbershoot Music Festival, the Seattle International Comedy Competition and recently was a semifinalist in the 2021 San Francisco Comedy Competition.
His brand of high energy biting comedy has been described as undiagnosed ADHD by his friends and incorrectly diagnosed rabies by his foes.
He's loud and bald and bearded and is looking forward to making you laugh.
The Talent:
Hosted by Bree Jones
Feature Act Greg Beacher
Headliner Luke Severeid
The Show:
Early Bird Tickets $15 – Available until Jan 7th
General Admission Tickets $20
Doors open at 8:30pm
Show starts at 9:00pm
At Mad Swede Brew Hall in Downtown Boise,