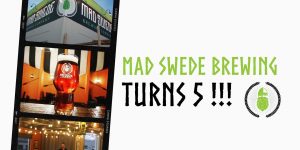 Mad Swede turns 5 this week!
Instead of having a big party during these uncertain times, we're offering a big THANK YOU to everyone who kept us going this long.
Enjoy 5 days of $5 beers during the 5 o'clock hour in celebration of Mad Swede's 5th birthday!
From Tuesday, October 5th through Saturday, October 9th come in during the 5 o'clock hour to enjoy 5 of our signature beers for only $5. We're offering:
Mundo Loco
Danegeld
Longship
Naked Sunbather
Helm of Awe
For only $5 from 5-6pm, and ALL DAY on Saturday, October 9th.
Fill out your 5th Anniversary punch card by drinking all five beers during the promotional period and you'll be entered in a raffle to win a Longship IPA t-shirt and two Mad Swede IPA glasses.