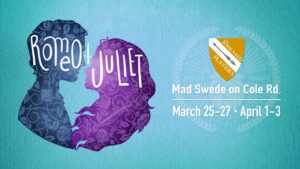 The Boise Bard Players bring this classic romance to life at Mad Swede Brewing (Cole) this spring.
Join us for the most immersive Shakespeare in the Treasure Valley as "Romeo and Juliet" plays out among the tables and chairs of the Mad Swede tasting room. Arrive early and grab a bite to eat from the food truck of the day.
The brewery area will be open for non-playgoing guests of Mad Swede.
 DISCOUNTED TICKETS 
Join Patreon on a monthly basis for exclusive perks and 1-2 free tickets per show run.
 PLOT SUMMARY 
Romeo Montague and Juliet Capulet fall in love at a party. But their families despise each other. The lovers are sure they will not be allowed to marry. So they decide to marry in secret instead. Tragically, Romeo kills Juliet's cousin in a duel before their wedding night , and is forced to leave her. If he ever returns to the city, he will be put to death.
Juliet's parents tell her she must marry another. She agrees to the arranged marriage, while secretly planning to fake her own death and escape to be with Romeo forever.
But as we all know, the lovers never make it to their happily ever after.
____________
 DATES 
Friday, Mar 25 — 7:00 pm
Saturday, Mar 26 — 7:00 pm
Sunday, Mar 27 — 2:00 pm
Friday, Apr 1 — 7:00 pm
Saturday, Apr 2 — 7:00 pm
Sunday, Apr 3 — 2:00 pm
____________
 LOCATION 
Mad Swede Brewing Company
Tasting Room
2772 South Cole Road
Boise, ID 83709
See less