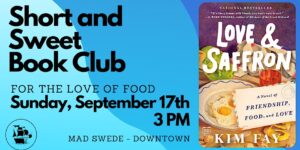 Rediscovered Books Short and Sweet Book Club – Love & Saffron
Join us for an exciting in-person book club event at Mad Swede Brew Hall on West Bannock Street in Boise, ID. We're diving into the world of Love and Saffron with our latest book selection. Come prepared to discuss, laugh, and maybe even shed a tear or two. Don't miss this chance to connect with fellow bookworms and share your thoughts on this captivating read. See you there!
About the event:
Seating is limited, registration is required for each person.
Ticket includes book and $5 voucher to Mad Swede.
Need not have finished the book to attend! Come to meet new people and have a great conversation!
A great way to connect with new book people and explore some locales around Boise.
If you have already purchased the book from Rediscovered Books, please email a copy of your receipt to rdbooksevents@gmail.com and we will issue you a gift card equal to the cost of the book once you have registered for the book club.