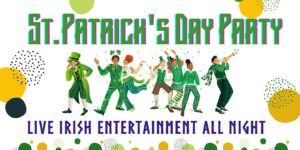 Mad Swede's EPIC St. Patrick's Day Party is back with live music, Irish step dancers, bagpipers, and beer specials!
This will be a big one!
Mad Swede is proud to bring back its legendary St. Paddy's Day party with all the fun and surprises.
Make sure you're here by 5:00pm to see Irish Dance Idaho perform traditional dance.
Rhodes Hull band plays from 6-8pm.
Bagpipers come at 8:30pm.
$6 pints and $23 pitchers of Green Beer
Pizza specials from Fire Giant's Pizza Forge
….We might even do a Caber Toss at some point. Is it culturally anachronistic? Yes. But like…have you met Mad Swede? Skål!