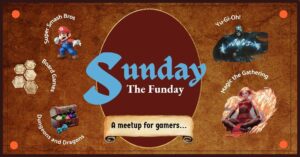 Sunday Fun Day is a meetup for all lovers of games.
It's Game Day at the Brew Hall! Or rather…It's Gaming Day!
From Magic the Gathering and Yu-Gi-Oh to Dungeons & Dragons and Robinson Crusoe. Board Games, Card Games, Role-playing Games, and we'll even hook up the gaming projector for live faceoffs of fan favorite video games like Super Smash Brothers.
Grab your crew, grab your favorite games, and mix and mingle with fellow enthusiasts at Mad Swede Brew Hall in downtown Boise.