Blue City Comedy presents
The 44 Ford Comedy Special – LIVE TAPING at MAD SWEDE DOWNTOWN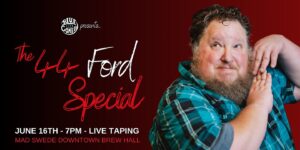 Nate Ford, Boise's most beloved comedian, is turning 44. To celebrate, he is recording his special at Mad Swede Brew Hall. Join us for what will be a most cherished local comedy moment in the making.
————————–
YOUR HOST: Tyler Wolf
YOUR FEATURED COMEDIANS: Hailee Lenhart-Wees and Emmanuel Vera
————————–
$20 Online l $25 at the door
Friday Show:
-Doors at 6 ; Show at 7
—————————
MEET YOUR HEADLINER:
NATE FORD – Unleashing Laughter Across the Nation!
Prepare to embark on a wild comedic rollercoaster ride with the unstoppable force of laughter that is Nate Ford. For the past two decades, this comedic legend has fearlessly traversed the country, leaving a trail of roaring audiences and unforgettable performances in his wake.
From the dimly lit dive bars that ooze with character to the grandeur of prestigious theaters, Nate Ford has conquered every stage imaginable. With a charisma that fills the room and a delivery that hits like thunder, he effortlessly commands the attention of any crowd, turning even the toughest skeptics into roaring, tear-streaked fans.
Nate's comedic prowess has garnered him well-deserved recognition. You might have caught a glimpse of his brilliance on the electrifying stages of Last Comic Standing , where his razor-sharp wit and impeccable timing left judges and viewers alike gasping for breath. And if you're a connoisseur of the airwaves, chances are you've tuned in to hear his uproarious performances on The Prairie Home Companion , where he weaves comedic gold into every syllable.
Sharing the stage with comedy heavyweights is second nature to Nate Ford. From the lightning-fast humor of Bill Burr to the side-splitting antics of Shang Forbes , he effortlessly holds his own amongst the comedic elite. And let's not forget the unforgettable encounters with the infamous duo Randy & Mr. Lahey of the Trailer Park Boys , whose raucous energy only amplifies Nate's comedic genius. Plus, the incomparable Tony Rock , whose comedic lineage flows through his veins, has experienced firsthand the magic that Nate brings to the stage.
So buckle up, comedy enthusiasts, as Nate Ford ignites the laughter revolution from coast to coast. With his infectious energy, boundless creativity, and a knack for finding humor in the most unexpected places, he is the comedic mastermind that will leave you begging for more. Get ready to laugh until your cheeks ache and your sides split, because in the world of comedy, Nate Ford is the undisputed king!
A SPECIAL THANKS TO NATE:
Nate Ford's impact extends far beyond the bright lights of the national stage. While he may have conquered coast-to-coast tours, Nate remains deeply rooted in his local comedy scene in Boise, Idaho. A true advocate for emerging talent, he is a beacon of support for fellow local comics, nurturing their growth and fostering a vibrant community of laughter.
In the intimate comedy rooms and open mic nights of Boise, Nate can often be found lending a helping hand, offering guidance, and providing invaluable opportunities for up-and-coming comedians to shine. His selflessness and genuine passion for comedy shine through as he tirelessly champions the local talent, ensuring that the vibrant comedy scene in Boise continues to flourish.
Whether it's hosting showcases, organizing comedy mics and shows, or simply offering a listening ear and words of encouragement, Nate Ford is a true mentor and friend to his fellow comedians. His dedication to building a supportive network underscores his belief in the power of laughter to bring people together and create lasting connections.
While his national touring is impressive, it is Nate's commitment to his local comedy community that truly sets him apart. Through his unwavering support and infectious enthusiasm, he has become a beloved figure in Boise, inspiring a new generation of comedians to follow their dreams and embrace the joy of making people laugh.
In the heart of Idaho, Nate Ford stands as a comedic pillar, nurturing talent, and spreading laughter like wildfire. His unwavering commitment to his local comedy scene serves as a testament to his genuine love for the art form and his unwavering belief in the power of comedy to transform lives.
Come out to support him now in his tapping of The 44 Ford Special!
———————-
Wanna be in the Comedy Loop?
Follow Blue City Comedy on FB, IG, Twitter and Eventbrite
– Supporting artists working their craft –