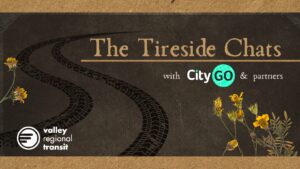 Join us for Tireside Chat # 6- a Neighbors United Resource Sharing Panel!
In this exciting collaborative event Neighbors United and City Go come together to provide a comprehensive resource bundle for welcoming refugees to our community!
Neighbors United is a dynamic collective comprising individuals, community leaders, organizations, and companies dedicated to supporting refugee resettlement and integration in the Treasure Valley. Facilitated by the esteemed Idaho Office for Refugees and in partnership with the City of Boise, Neighbors United strives to foster a welcoming and inclusive environment for refugees.
City Go – Valley Regional Transit's TDM (Transportation Demand Management) and DEI (Diversity, Equity, and Inclusion) advocate agency is at the forefront of promoting sustainable transportation solutions and championing diversity within our community. They actively work towards creating equitable access to transportation options for all residents.
At this special event, these influential agencies are joining forces to offer a valuable resource bundle that encompasses various aspects of support, guidance, and empowerment for diverse individuals and families. Whether you are a refugee seeking assistance; a community member interested in volunteering; or someone who wants to learn more about inclusive transportation options, this event has something for everyone.
The resource bundle includes services from:
• Valley Regional Transit
• Boise Bicycle Project
• The City of Boise
Join us for an evening of collaboration, information-sharing, and community building. This event aims to foster understanding, promote unity, and empower individuals from all backgrounds to thrive together in the Treasure Valley.
Don't miss this unique opportunity to connect with like-minded individuals, learn about valuable resources, and make a positive impact in our community. Together, we can build a more inclusive and supportive environment for all.
Schedule:
4-4:15 Get settled in – Grab snacks and chat with other attendees
4:15 Start the chat.
Moderator introduces panelists.
Panelists present their resources.
Community Questions- open to all.
5:30/6 Finish discussion and networking
Please RSVP using the ticket link, so we know how many snacks to provide.