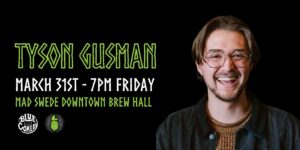 Blue City Comedy presents
The Tyson Gusman Comedy Show at Mad Swede Downtown Brew Hall
HOST OF COMIC OF THE YEAR '23 attempts his 1st hour!
(LIVE video recording!!!)
————————–
$20 Online ; $25 at the door
Friday Show:
-Doors at 6 ; Show at 7
STARRING.
Your host… Jack Wheeler
Featuring: LJ Sullivan
————————————————-
MEET YOUR HEADLINER:
Tyson Gusman is a Seattle-born comedian who's young enough to still have hope! At home in Boise, he's a frequent host and feature act, but his greatest accomplishment is growing to 6'3" in only 23 years! His unique blend of high-energy characters and abstract observations is sure to make you grateful to be alive. When Tyson's not onstage, you can find him sucking the marrow out of his philosophy degree.
Follow him on Instagram @tysoonaroonie
———————————————————————
Mad Swede Downtown Brew Hall is bringing you award winning beer and hard seltzers. Have you tried our hop water yet!?!
Come have dinner and a show – EVERY WEEKEND at Mad Swede Downtown!
Savor the voyage!
———————-
Wanna be in the Comedy Loop?
Follow The Blue City on FB and IG and Eventbrite at @BlueCityComedy
– Supporting artists working their craft –