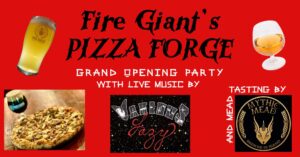 Come celebrate the Grand Opening of our new resident wood-fired pizza truck: Fire Giant's Pizza Forge!
After years of "No we don't have a food truck today" WE HAVE A FOOD TRUCK TODAY seven days a week from 3-9pm!!
Celebrate with LIVE MUSIC by Various Lazy, mead tastings hosted by Mythic Mead, pitcher specials by Mad Swede Brewing, and of course wood-fired PIZZA!!
OG Mad Swede employee and blood family member Eric Larson has knocked it out of the park spearheading this new venture, and if you've tried his pizza during the November soft opening, you know it's true. Every aspect of the pizza is made completely from scratch and almost every aspect incorporates Mad Swede beer, from the sauces to the meats to the crust itself. Fire Giant's Pizza Forge makes dough from the spent grain of Mad Swede's brew process, making it lower carb with higher protein, fiber, and vitamin E. It's almost healthy! And the unique snap and chew of the wholesome crust will have you craving it every week.
Fire Giant Pizza Forge Hours:
Monday thru Sunday 3-9pm