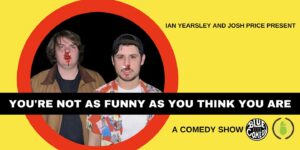 Welcome to 'You're Not As Funny As You Think You Are', the monthly stand-up comedy show that features some of Boise's best comics!
Every last Friday of the month, the brewery at Mad Swede Brewing comes alive with laughter and good times. Come check out the show and see for yourself why it's quickly becoming a local favorite!
Mad Swede Brewing Company 2772 S Cole Rd Suite 140, Boise, ID 83709
On the 26th at 8 pm, Marina Wool will be hosting a wild night featuring Matthew Vorhies, Ian Yearsley, Ben Friedman, Kris Sharma , and Josh Price! You will not want to miss this one.
Arrive early and grab a gourmet pizza from Fire Giant's Pizza Forge!