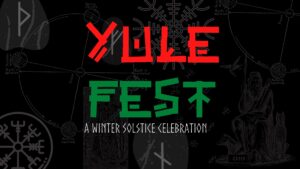 Join us for Yulefest!
Yule love our traditional Winter Solstice celebration!
Mad Swede celebrates our pagan roots with activities inspired by ancient Norse traditions of Yule:
-Fire pits will be burning the Yule Log all day. Carve or burn a magical rune into a log and sacrifice it to Odin in our Dumpster Firepit
-Make your own Yule wreath
-Sample mead with Mythic Mead
-Taste a "Braggot," a hybrid of Mead and Beer
-Warm up by the fires with hot mulled wine
-Eat wood-fired pizza from Fire Giant's Pizza Forge
-Runic Readings by Loki Mischiouf! (Like tarot readings, but better.)
Winter Solstice is December 21st this year. It's the shortest day of the year. Let us help you through the dark!