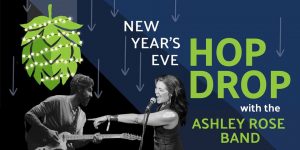 Join us for Hop Drop on New Year's Eve!
NYE Party with live music and a FREE toast at midnight!
COME RING IN 2022 WITH MAD SWEDE! WE'LL BE DROPPING A GIANT HOP OVER THE BREWHOUSE AT MIDNIGHT!
Let's be real, of all the crops we grow in Idaho, potatoes are ugly but hops are beautiful. Wouldn't you rather gaze at a giant light-up hop in a cozy brewery while dancing the night away to AMAZING live music?
*The electrifying Ashley Rose Band will be rocking the house from 9pm-1am
* FREE midnight toast of Mad Swede Craft Seltzer, tart and slightly sweet with flavors of apple, ginger, and rose
* Windy's Whip & Drizzle will be slinging BBQ, burgers, and mouthwatering desserts
* Free New Year's Eve party favors while they last!
* Free and plentiful parking
* Indoors – nice and warm!
Tickets are $10 pre-sale on Eventbrite, but $15 at the door. Get them while you can!