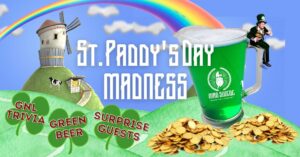 This is a Trivia Night you cannot miss because Mad Swede has lots of surprises in store for St. Patrick's Day!
– Green beer for $4 a pint, $15 a pitcher
– Hawgs & Dawgs slinging hot dogs from 4-8pm
– Game Night Live Trivia from 7-9pm
– ONE BIG ST. PADDY'S DAY SURPRISE!!
Reservations are HIGHLY RECOMMENDED, this is going to be packed and you don't want to be turned away. We will have to stop taking reservations when we're at capacity. Call 208-922-6883 to reserve you're table.